Rectangular ash pit door. Identical sized ovens. Towel rail bolts to front. Grill under ash pit covers secondary air intake. Simmering plate has CORD around it. Enamelled flue box. Mercury steel pipe in channel from temperature plate up and under hob. Aga name EMBOSSED onto front plate The BLACK HOB is flat – unlike later versions which have a RAISED SHELF or rear LIP across the back.
Original colours CREAM or WHITE only.



The 4 oven could have CHROME or CAST lids


Aga Deluxe. Made 1956- 1974.

Defined by the raised SHELF across rear of cooker. There are 3 identical sized doors on the 2 oven and 5 on 4 the oven.
ONE PIECE top on 4 oven version. Sold for OIL, GAS or S/F operation.
Early oil versions still had air control on left near hob
Badge AGA italic, usually RED background.
Coloured enamel front cream, white, sky blue – later brown, black, red, dark blue, green
Domes chrome, early versions had colour matched rim to front Note – many variations now including after market cast domes!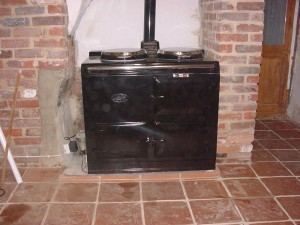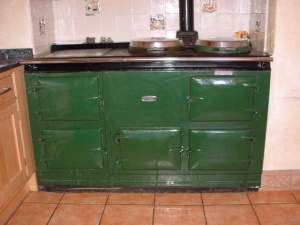 Post 1974 Aga.

Made with a small upstand along the rear top edge. Chrome domes. Doors the same size. Oil, Gas and Solid fuel in 2 or 4 oven versions .Optional bolt on badges.
Colours – all of earlier ones plus pewter, claret, pink, British Racing Green, 3 blues, etc.
4 oven version has separate section, with own towel rail and joint strip between sections